*new*
[ all abandoned ]

[ home / news ]
[ about us ]

[ whats new? ]
[ user submitted ]

[ advertising ]
[ archives ]
[ archive 1961 ]
[ bldg (int.) ]
[ bldg (ext.) ]
[ bldg (info) ]
[ bldg (explore) ]
[ other bldgs ]
[ ski chalet ]
[ the town ]

[ discussion ]
[ mailing list ]

[ contact the webmaster ]
[ the syndicate ]

other links
paradise lost?
catskills institute



bldg/explore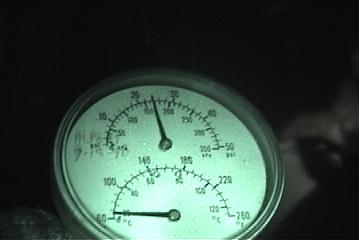 In the boiler room we see that gauges that indicate that their boiler system was never drained. Note that although the temperature reading indicates that the water is about 60 degrees (or less), the water pressure is still up in the 20-30psi range.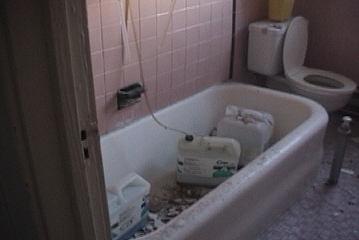 This is a maid's room in the main building. And what is here in the bathroom? Industrial strength cleaners. More chemicals. Hey, let's go mix these with the hypo and the muriatic acid by the indoor pool. Disclaimer: I am not really suggesting this. Considering this suggestion may result in a reduction in the overall world population by killing you.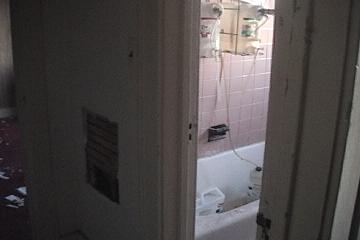 This little maid's room particularly interested me because the bathroom is shared between two of the rooms in the main building. These used to be guest rooms, so I don't really understand how two guests would share the barhroom comfortably. And look at the lovely cutout in the wall.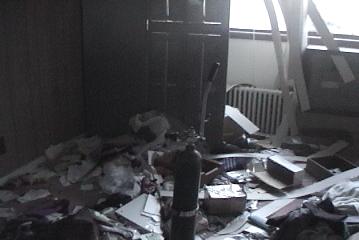 Ah, the security room. Here is an interesting story and a perfect example of exactly how quickly things get trashed at this place. One visit I went, and I found a key to this room, which head a deadbolt in addition to its normal locking knob. I went in, and the room was in bad shape, but it contained tons of cool stuff -- security uniforms & jackets, gas masks for the oxygen tank pictured, first aid stuff, and pretty much everything from their lost and found. I made sure to lock the door again when I left. Upon my next visit, the door had been kicked in, and the room had basically been raped for all it was worth. Quite amazing how dedicated the other strangers in the building are!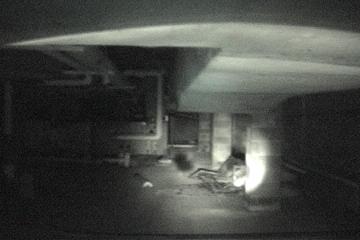 Now, under the indoor pool, we see lots of garbage, and strange (presumably reinforced) cinder block supports holding up the massive weight of the pool and surrounding lounge chairs and mini-golf. Behind this room are all sorts of cool pool systems, including one room with a staircase that goes down a full 7 or 8 feet. Only problem is, the room is totally flooded. The room also has barrels floating around in it. Don't trick yourself into thinking the barrels are empty. Like many industrial buildings, The Pines has lots of dangerous chemicals still inside it. What's inside the barrels? Sodium Hypochlorite, a.k.a. "Hypo" to those in the pool industry, a.k.a. bleach to the normal person. Only thing is, this is anhydrous sodium hypochlorite -- you get this powder on your hands and it'll burn like hell and probably burn you permanently. Interesting to see the barrels float though. There are also barrels filled with muriatic acid in an adjacent hallway. I may just be a chemical nut, but for those not in the know, muriatic acid is a very strong acid generally used in brick cleaning and pool sanitizing. You might know muriatic acid by its actual chemical name, Hydrochloric Acid (HCl). Nasty stuff, makes me want to take a barrel home with me.
wanted to enjoy a fine fresh cigar but unfortunately, all I had was a quarter and a dime, and this machine doesn't take dimes (what a piece of shit). I found this thing under the indoor pool, strangely enough.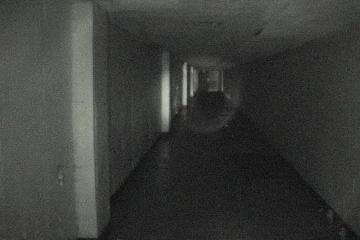 Let's start things off this time by taking a look at some of the spots that most people probably don't remember from The Pines. A 400 room hotel has to be supported by extremely large utility systems, such as electrical, telephone, drinking water, and sanitary sewer systems. Even spots where guests didn't stay, such as the indoor pool and the night club were supported by all sorts of systems that were well hidden from a guests view. From this famous and memorable tunnel, one can reach two very interesting rooms. One room is a boiler room, flooded with murky, rust laden water, and the other is an access room under the indoor pool. Anyone interested enough in exploring the place should be easily able to find both.