I'm in a peculiar mood; one where I feel like I'm always taking a number when people have other things to do. I apologize for the unintended existence; I merely was trying to continue being. I didn't think it would be so inconvenient for some of the people close to me.
When I don't have anyone to be around, I do things like create SLAPM. When people are around me a lot, I spend most of my time off the Internet just hanging around. I'm slowly starting to question which is really more personally fulfilling. Sure, people are great when you're feeling lonely. But once that is satisfied, seeing people can become more of a pain then they are a pleasure.
The one thing that bothers me the most is dishonesty. Like when I tell some random creepy guy at the post office, "oh, sure, I'll write to you" when he gives me his email address and asks me to explain how to make money by selling bootleg CDs on Amazon.com. It doesn't have to be verbal; people can lie with their expressions and body language. Like when I walk around at work like I have a smile electro-statically stuck on my face. I've already been criticized for being too straightforward and sometimes tactless when dealing with people. Maybe I should just swing the lie meter a little bit higher and I can convince myself that I like doing what I'm doing.
What I'm doing is lying. There are so many ways that I lie every day; lower than a rug, I lie. I lie to myself and convince that sometimes, things don't need to be fixed. There's one big thing that needs to be fixed in my eyes, but there's no way in hell that I'm going to just pour my heart out about it on the Internet. Because the point isn't that something's been slowly eating away at me – the point is that I'm letting it eat me away by pretending that it's alright.
I definitely have to do something about it though. Today when I was running, I practically yelled at Joe when we talked about it. Joe is too cool to let my attitude about things faze him though (and that's honest, Joe's the man). It just made me realize that some of my fears are grounded, but a lot of them aren't. Every time I think of myself from an external angle, I picture Peter Griffin from Family Guy, doing something stupid on a sensoric and idiotic whim.
There are definitely things in my life that need change. One thing that needs change is my attitude to the world. I'm both hurting people around me with my attitude, and being hurt by the attitude that comes back in response.
Sad as it is to say, I think I'm too jumbled to even remember where I was going with this. So if you are in my life and you find me to be such a huge farking inconvenience, maybe you should go fark yourself, and whoever your friend is, they can go fark themselves too.
But there is good news from this week — I passed my drug test. For those that are interested, after some rather callous behavior on my part, I was able to successfully pass a SAP-10 urine screen from Quest Diagnostics after 16 days of abstinence, 3 mile runs on alternating days, heavy consumption of water, the use of GHF Fast Flush citrus drink (a real steal at only $18 per bottle, compared to some brands), and nightly consumption of two to four drinks of beer. So, I was doing some things right, like abstaining from the intake of toxins and engaging in regular aerobic exercise, but I also was still drinking small amounts of beer on a daily basis (doctors recommend two per night, by the way). I honestly will have to credit the successful result of this test to the GHF Fast Flush drink because of the time frame involved. According to calculations, it should have taken me at least another 16 days on top of the 16 days I had already abstained, barring other factors including individual differences in metabolism and what not. Remember though, that drinking a bunch of water right before a drug test will likely make you fail on the grounds that your urine is a) too clear, in which case the collector will reject the specimen on the spot, or is b) lacking Creatine because your urine is too dilute. The GHF drink contained Vitamin B12 (a whopping 400% of my DV, actually), and a few hundred milligrams of Creatinine Monohydrate (which gets rapidly metabolized into the form of Creatine that urinalysis labs measure for). All the drink did was fool the analysis cutoffs for dilute urine, and note that they didn't actually "flush" me out. I should be clean by now though, considering I've still been abstaining, and my exercise routine has only become more intense since I started it. Pretty soon I'll be running marathons.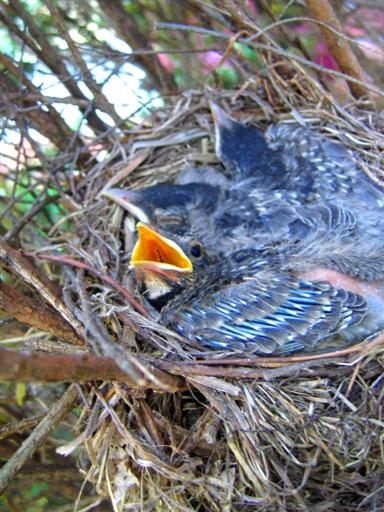 The mother of these birds built her nest in a spot where it could easily be reached. Naturally, since my family doesn't generally hunt wild fowl, we let them be. Not before I snapped this incredibly cute picture of one of the baby birds waiting for its mother to drop some food into its mouth. A fourth baby, not pictured, sadly fell out (or was bumped out) of the nest and its status is currently unknown. Such is nature, I guess.