No sleep + Mother in hospital + Tons of organic chem work + Commitments outweighing time assets (social debt) + No sleep + No sleep + NO FREAKING SLEEP = Dull website. So, that was my day, pretty lame. Oh yeah, and EZPass farked with me this morning. I saw some dink trying to back up out of the EZPass lane, and I thought to myself, what a dipshiat. I gave him enough room to back up should he have finished the manuever, but he put the van back in drive and continued forward like a good driver. I inched through the EZPass lane to find out exactly what was going on… it told me, with my valid EZPass account, to 'CALL'. This is interesting, because usually it completes the message and says, 'CALL EZPASS'. In any event, when I find out what it means exactly, I'm probably going to get even more pissed… unless it means that I got away without having to pay the toll, in which case, sweet.
Oh, something nice happened to me today. I was at the self service car wash on Route 59 near the Palisades Mall, and after having a rather interesting discussion with Rockland County's Arson Investigator (who happened to be in the adjacent wash-bay), I ran out of money. I approached a woman in her late 20s, asking to trade a lottery ticket worth $1 for just 75 cents. She insisted that I just take the 75 cents. It was very nice of her. Good karma, good karma, keep it going. Anyway, here's some weird news for the day: McDonalds, my absolute favorite restaurant, will now be adding top-30 DVDs to their menu. That isn't weird enough for you? Oh, ok, how about the story about the traffic plane that made an emergency landing today — on a highway. As you could imagine, it created quite a traffic jam!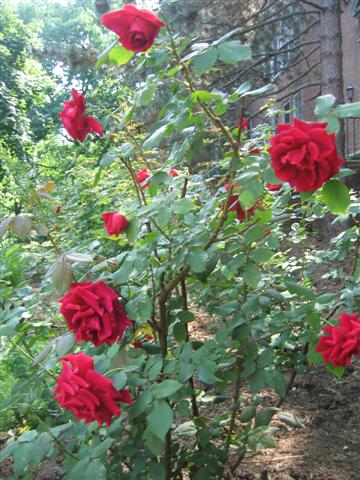 Here is the obligatory 'this-is-way-more-beautiful-than-RPI' shot, taken of course, at Manhattan College.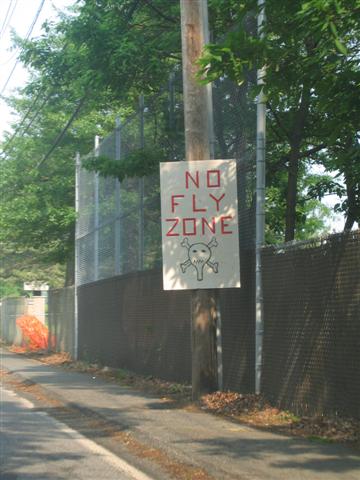 And what the hell is this garbage? It was posted in front of the Nanuet Middle School on College Avenue. If this is someone's attempt to take traffic control into their own hands, to that I say: hey, leave that to me. You can't just post signs, especially big ugly signs, wherever you damn well please. Furthermore, only people as foolhardy and experienced in transportation engineering as myself should be involved in such endeavours as sign-posting (or removal).