Towards the end of January, INeedAttention.com carried an article about Pizza Hut and how ridiculously overpriced they were. I hadn't been back since, until last night – though you may curious as to why I decided to return, first, I'd rather discuss the circumstances around another incident that happened in January.
David Banach, 38, lived in New Jersey with his wife and children. He lived a rather plain life by most standards, working as a fiber optic cable tester. He owned a green class III laser which he used in the course of his job. The "class III" designation indicates that it's more powerful than the traditional laser pointer that you're used to seeing people use for presentations and being annoying in move theaters (those are class I). On the evening of December 29, 2004, David Banach was in his backyard with his daughters and apparently pointed his laser into the sky. He did the same thing again on December 31, 2004.
The problem was that a plane flying overhead at 3000 feet reported that they were 'blinded' by some source of green laser light on the 29th. On the 31st, a Port Authority helicopter was flying around Teterboro airport looking for the source of the light, and surely enough, they saw the beam and traced it back to its source. Within minutes, swarms of local, state, and federal authorities converged on the Banach residence and questioned David Banach. Within weeks, it was announced that he was being charged under the Patriot Act.
The Patriot Act, if you recall, was sponspored as anti-terrorism legislation. So considering statements made by the FBI indicating that there was no connection to terrorism, I'm a little bit confused as to why exactly he was charged. To quote, "Last month, the FBI and the Homeland Security Department sent a memo to law enforcement agencies saying there is evidence that terrorists have explored using lasers as weapons. But federal officials have said there is no evidence any the current incidents represent a terrorist plot." If you're interested in reading the actual complaint filed against David Banach it is available here.
So, why the title "eat your heart out"? Two nights ago I saw something that everyone in the New York Metropolitan area has probably seen a number of times. I saw lights pointed in the sky, rhythmically moving around, all to signal that something big is happening. It's not the bat signal, it's just a truck that has four incredibly intense rotating lights and a generator mounted on the back. This particular night, it was set up at the new location for Paul Miller Toyota in Monsey. I followed the light to its source and although I wasn't interested in buying a car, I did have a rather interesting conversation with the operator of the vehicle. He told me that it cost as much as $175 per hour to rent such a vehicle and pay for his salary. "The company is huge," he said, "We're all over New York, New Jersey, Pennsylvania; it's big business." Of course, remembering the David Banach case, I had to at least ask if he thought the devices worked. Did they draw people in? How far could people see them from?
"I've had people come on a clear night and tell me they saw it 40 miles away." The man obviously had a great deal of experience pointing lights in the sky, and I believed him just because on Thursday night, it was overcast and even a tad foggy, and I was able to see the lights from Nanuet, when they were being shined all the way from Monsey, a distance of at least five miles.
I would be hard pressed to believe that David Banach's class III laser, with an effective output power of 5mW, could have been even remotely comparable in output power to the intense lights mounted on the truck pictured below, especially considering that they required their own generator. The Register has published a collection of accounts that even explain that David Banach's laser would have been nearly completely diffused at 3000 feet, one explaining that the beam would "produce a spot 8+ meters in diameter", adding that from that distance it would "look like a very weak lamp". The incredible power output by the truck, however, I believe would probably be more blinding, especially considering that it's so bright that you can literally see the cohesive column of light reach up to the clouds.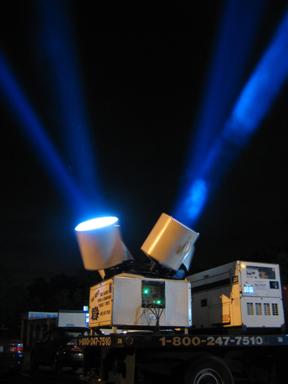 The truck discussed above, putting out light so intense that it produces a solid column of light reaching to the clouds
So the David Banach case is a bunch of bull; another sacrificial lamb being slaughtered to remind us that the government can do what it wants, when it wants. Must it be so? The only hope for David Banach is that a jury of twelve of his peers might acquit him when they hear the technical details behind the case. Of course, I think that with all the resources of the federal government that it's unlikely, although not impossible. It's important not to forget that our system is unfair right now; you're guilty until proven guilty.
But moving on to a lighter subject, the article published about Pizza Hut included a calculation of the smallest slice of pizza and how ridiculous it was. I only returned to Pizza Hut last night because I was given a coupon for a free large or extra large one topping pizza. Between that, and the breadsticks that I paid for, I paid only $2.96 for the entire meal. Of course, it was worth that: Pizza Hut sold me a pizza that contained a slice even smaller than the smallest on the last pie! The slice pictured below measured 5.5″ on its longest side, and about 2″ on it's curve. Now, assuming that 5.5″ is the radius of the circle, that would make the circumference of the circle equal to 2*pi*r, or 34.5″. Considering the arc length was 2″ in this slice, or about 5.79%, we can safely assume that the slice pictured here has an effective angle of about 20.9� (5.79% of 360�). We can then calculate the area of the sector by using the formula A=(n/360)*pi*r2, where n is the number of degrees of the slice.
Using the above calculations we arrive at a startling figure. Look at the slice below, sure, it looks small, but…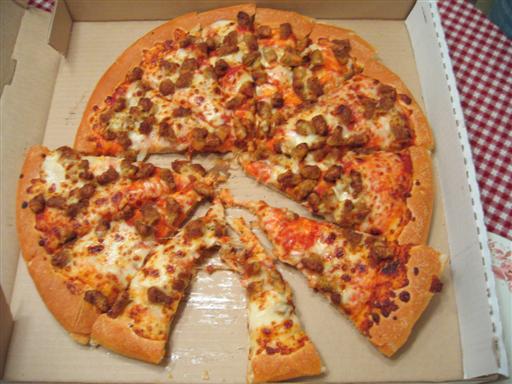 This slice had a total surface area of only 5.5 square inches! The slice that was mocked in the last article was 163% of the size of this slice! Pizza Hut, you really need to wise up and realize that this is bad customer service. I'm glad that you lost money on last night's transaction, because your business practices are underhanded and embarrassing. Pizza Hut, you are a shame to pizza all around the world – it's no surprise that your offices refuse to offer comment on, or even acknowledge, this article, but believe me it's egg on your face.