There is quite a bit going on 'behind the scenes' right now. First of all, if you haven't already heard, SLAPM is almost ready. SLAPM is going to be the leader in Sub-profile technology, and will easily blow away IMChaos in terms of quality and reliability. Expect it to be public very, very shortly. (Update 2006: AOL changed a lot about the AIM client, and there were a lot of issues surrounding our total integration into AIM (i.e., AOL repeatedly killed our bots), so this never became what I hoped it would be).
Next is the joint INeedAttention.com & Voltsamps.com venture — YouMayBeAtRisk.com (Update 2006, also never happened, and of course someone bought the domain name and is now squatting it). Slava and I are both extremely prolific and are respected by peers within our own fields. We are launching a website that will merge some of the functions of our individual sites. This new site will allow us to focus on publicizing our ideas, which we often lack the resources to fully flesh out. We are more concerned with global innovation and the advancement of science and knowledge then we are about protecting our intellectual property. Due to our own circumstances, we merely lack the funding to completely develop some of our ideas. Topics discussed will include science & technology, systems analysis, security advisories, & technology law. Expect this site to rock, and rock hard.
Moving on, I'd like to address Hurricane Katrina a little bit. Hurricane Katrina left devastation in the south that is virtually unparalleled in American history. People across the country will bear the burden of paying for recovery and rebuilding. There is an old saying that where there are winners, there are losers. The inverse of this is also true: where there are losers, there are winners. Along the Gulf coast right now, there are tons of losers. Individuals, businesses, and municipalities will be left to start over from virtually nothing. Halliburton, for example, was left with millions of dollars of reconstruction contracts already. Interestingly enough, the Bush administration didn't seem to move as quickly about evacuating the Superdome. The federal government really dropped the ball here and demonstrated something that I've been saying for years: we just can't nation build. We can't even nation build one of our own cities, let alone another country. There are over 100,000 servicemen and women in Iraq right now, and who even knows how many billions of dollars worth of HMMVs, helicopters, planes, and supplies are there as well.
Around 9/11, also, it's good to mention this isn't the first time the federal government has demonstrated its incompetence in crisis. The Center for Cooperative Research has a well-cited timeline of the events of 9/11. Most of the sources cited are mainstream media including names like CBS, ABC, NBC, and Fox. It makes it hard to brush this "conspiracy theory" off when it's merely a compilation of the "official stories" propagated by the media. The worst thing to do, when confronted with the possibility that the government has lied, is ignore the available information. You don't have to agree that the federal government is starting to choke on the smog of its own exhaust — but you should agree that it's important to find truth and consensus both in current events and historical accounts of events. People in New Orleans have and will continue to die just like people on 9/11 — needlessly, when someone had the power to prevent it.
It would seem that no one in the federal government understands the broken window fallacy. People very close to the Bush administration, including Halliburton, the Carlyle Group, GE, Lockheed, and many other defense contractors all benefit from global suffering, energy shortages, and conflict in general. If a window breaks, we create jobs trying to fix it, according to the current executive paradigm. Unfortunately for the 299.9 million people in America that aren't closely tied to the Bush administration, we have to pay the price. And of course, lately, everyone may have noticed that we are 'paying the price' in the form of higher gasoline prices — but I'll touch upon that in my next entry.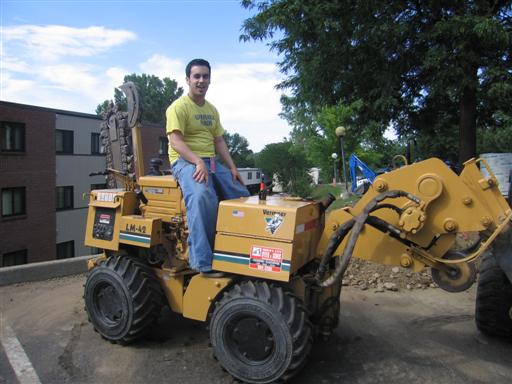 Cheer up though; life isn't so bad, even if people in our government that administer our lives are bad at running their own lives. Here's an amusing photo of me riding on an asphalt cutting machine.