Drivers in New York, take notice: the next time you forget to wear your seatbelt or break the speed limit, you may find yourself being pulled over by a taxi or a Honda Civic. The police officer may be wearing nothing more than jeans, an undershirt, and the iconic necklace badge seen ad nauseum on television crime dramas.
At a glance, this is nothing new: police agencies use unmarked vehicles for all kinds of official business, ranging from detective work to drug and gang task forces. But recently in Rockland County, the use of unmarked vehicles has become a bit more ambitious.
Less than a week ago, a black Ford Crown Victoria clearly marked as a taxi activated red lights and a siren, and stopped a motorist right in front of me. Two men stepped out of the taxi, wearing the uniform not of the local police, but instead the uniform of the average Joe: blue jeans and a white tank top undershirt. They searched the car with their flashlights in hand, apparently found nothing, and sent the driver on their way moments later.
That same night, a silver Honda Civic activated red lights and a siren before running a red light on Middletown Road. And yet another evening, a brand new black Chevrolet Impala, wired with the same style red lights and siren, stopped a motorist near the Nanuet Mall.
Three innocuous looking vehicles, equipped with emergency lighting and noisemakers, performing traffic stops and police actions all on the same street. Flashing red lights aren't the latest trend among new vehicle owners, nor is there an epidemic of police impersonators; your eyes didn't play tricks on you if you too saw a Honda Civic wired up like a Christmas tree, flying down a local road with sirens blazing.
It turns out that for years a loophole has existed in state policy that permits local police to perform routine traffic enforcement in unmarked vehicles.
In April 1996, Governor George Pataki signed executive order 35, which prohibited the New York State Police from using unmarked vehicles in traffic enforcement, due to concerns about police impersonators exercising false authority in the course of other crimes. There are recorded incidents involving police impersonators robbing or raping their victims under the pretense of a routine traffic stop. Governor Pataki's order provided exceptions for cases involving extreme danger or threats to public safety, in cases where failure to act would cause grave harm. A burnt-out taillight or seatbelt violation wouldn't constitute either, but stopping an escaped convict would.
However, the order never applied to local, county, or federal agencies and those agencies have been free to set their own standards for identification of police vehicles during traffic stops. Now, with local police using vehicles like Honda Civics, dressing their officers in street clothes, the line between a police impersonator and a real police officer is a very fine one, and indeed we should be asking: how can we tell who is a police officer now?
To make things more confusing, the New York State Police have regularly educated motorists about the dangers of police impersonators. There is an expectation that a police car performing a traffic stop will be marked "police" and will bear the name or seal of the agency operating the vehicle, in addition to being equipped with emergency lighting sufficient to gain your attention and warn other motorists. So it certainly could be concerning to see an otherwise innocuous silver Honda Civic behind you trying to stop you, even if you were speeding a bit, especially when the driver isn't even wearing a police uniform.
The state legislature is prepared to close this loophole with the introduction of bill 6088A, an act to amend the vehicle and traffic law to prohibit the use of unmarked police vehicles for routine traffic enforcement. This act would still permit police to use unmarked vehicles if a situation presented a danger to public safety, or if a crime was occurring. The introduction of such a bill reflects the concerns of the public, law enforcement, and lawmakers alike that there is a significant danger in allowing un-uniformed officers in unassuming vehicles to patrol the streets.
Under a policy permitting traffic stops in undercover vehicles, how long would it be before a driver resists a legitimate arrest? How long before a confrontation between a confused motorist and a police officer leads to a fist-fight or even a gun fight? Is there any way to know anymore who is and is not a legitimate police officer if they bear no official regalia besides a necklace badge? How long will it take before an impersonator takes advantage of an innocent driver's presumption that police use unmarked vehicles? That is, if that hasn't already happened.
One Rockland resident, a teenage girl that asked to remain anonymous, described her bizarre encounter with an unmarked patrol car: "The car flashed its lights and siren at me, and a guy got out and walked up to me. He wasn't wearing a uniform but he had a badge around his neck. I couldn't see what kind of badge it was. He said I was speeding and asked to see my license. I realized I forgot my license at home so I told him that. He asked where I lived, and I said I lived in town. He told me to drive to my house, and he followed me there, and then told me to get my ID. When he saw my name, he asked if I had any relatives that were police around here, and I told him yes. He didn't give me a ticket." Since when did local police have a policy of following young girls home in unmarked cars for a speeding violation?
"This is a valid concern," said Sgt. Swoboda, spokesperson for the New York State Police. "If any time you're not sure it's a police vehicle, slow down, and go to a well-lit, populated area. If you're in a rural area, there's nothing wrong with having the officer identify himself or herself with a badge or ID. Don't open the window all the way, and politely say, 'I don't recognize your car or your credentials; please show me,' or use a cell phone to call 911. The dispatcher can confirm it is or isn't a police vehicle, or send a marked vehicle."
The police vehicles described in the incidents above probably to belong to the Clarkstown Police, but spokesperson Sgt. Harry Baumann refused to comment despite numerous attempts to reach him. For now, it will remain a mystery.
UPDATE: We received a photo of a "taxi" like the one used in the traffic stops described here. Note the vehicle is parked in a police parking space and has "TX" taxi plates affixed.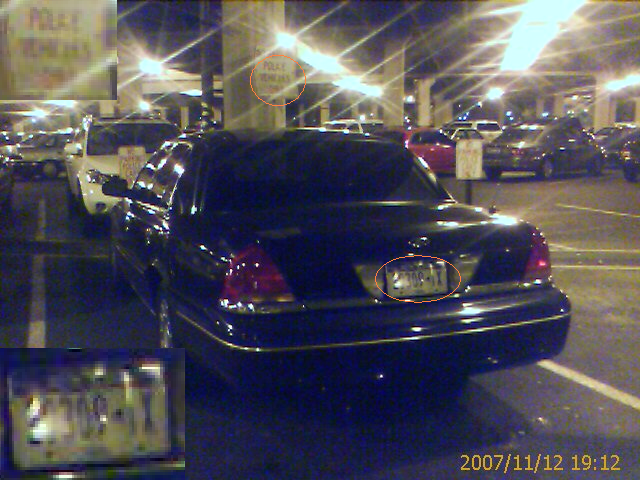 UPDATE 2: We have received yet another photo, this time of an unmarked vehicle in action stopping a motorist for what is assumed to be something routine and non-criminal. This car also has some strange black boxes on the back. I think these may be cameras or automated plate recorders — this model of automated enforcement camera looks similar— if you know, please comment below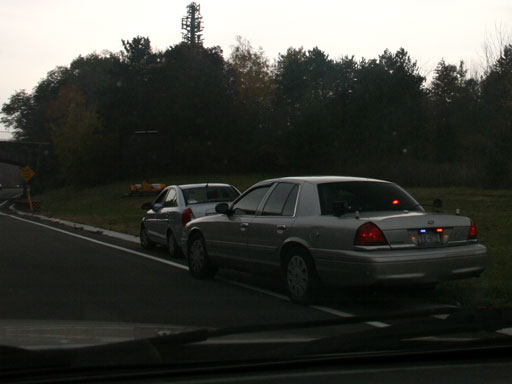 Have you had an experience with unmarked police cars in New York? Sound-off below.