"I make myself very available." This attitude leads to both opportunities and annoyances. More often than not, it leads to annoyances. Once of the key annoyances it leads to is spam. Spam arrives in my mail box, my PO box, my email inbox, and now in my AOL Instant Messenger client. But the spam I've been receiving isn't your typical spam that offers cheap prescription drugs, a larger penis, a second mortgage, or an opportunity to help a former Nigerian prince disburse his father's estate. This was much different.
I woke up this morning to this message, at least the third of this type that I've received:
(4:39:17 AM) shoppink141: hey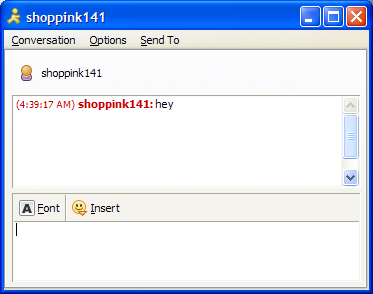 First, in case you're wondering why my copy of AIM doesn't have a million animated wacky smileys and advertisements with sound playing on my screen, it's because I'm using Pidgin, the free, open-source alternative to not just AIM, but MSN messenger, Yahoo messenger, and a host of other popular chat programs. If you use more than one messaging service, Pidgin is the way to go. Try it.
Anyway, I looked at the user profile, and I recognized it immediately as being nearly identical to the other messages I've received like this. The away message and profile read:
be back in a bit...
---
I once wanted to kill the most beautful girl in the world... and then i realized, suicide is a sin :-*
my profile holla at cha girl ;)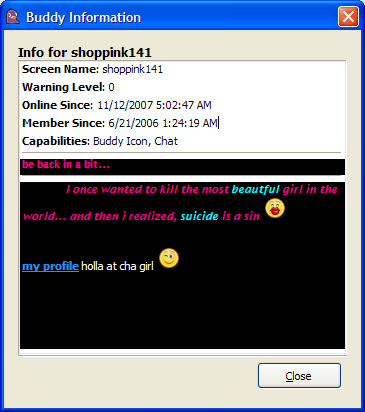 The thing about this that I find most interesting is that the screen name was apparently registered at some time in 2006. This leads me to believe this was at some point a legitimate AIM account that was hijacked by the spam-bot, probably because of a trojan horse virus or phishing attack. But the entire reason that I received this message is apparent right here: there is a prominent link to "my profile".
The spammer uses a number of psychological tactics to entice the user to click the link.
The profile uses "girly" colors — no self-respecting man would ever use such a color scheme.
There is an overtly visceral quote that implies the message's sender is in fact a beautiful woman and not a computer program.
The link is followed by the imperative phrase "holla at cha girl", directing the user to click the link so that they can contact this user.
And as we all know, online advertisers love to use images of women because there are simply so many desperate men on the internet. You could try to contact the user directly by sending them an instant message, of course. This is perhaps the most clever psychological tactic used by this bot. If you send the bot a message, it sends back a "buddy typing" signal, but never sends a message (note the keyboard icon in the upper-right corner of the IM window, next to the red 'X'):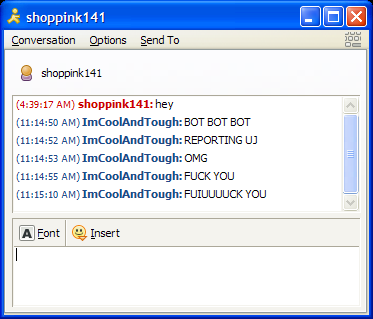 The bot will never change status, it will seem to type to you in perpetuity. Can you see how this would lead unsuspecting users to click the link in the bot's profile?
You receive a message, purporting to be from a good-looking girl, saying hello, but they seem to be having trouble replying to you. Perhaps you would check their profile and try and view their "other" profile.
If you were to, you would be linked to http://perfspot.bigtracking.com/. I had never heard of this URL, and a quick Google search revealed that basically, neither had anyone else. In fact, it seems that BigTracking.com is just a parked page, and therefore that "perfspot.bigtracking.com" is just a front for something. PerfSpot was actually the first site I was linked to by these spam messages. It made it seem as if PerfSpot itself was being promoted. PerfSpot appears to be a legitimate but unpopular social networking site, however since I didn't sign up, I can't confirm that's what it actually is.
That page, perfspot.bigtracking.com, contains only a JavaScript redirect to the URL "http://perfspot.bigtracking.com/fw.redirect", which then contains an HTTP redirect to "http://generousgenie.com/". Generous Genie contains numerous hot-linked references to a site called rewardsgateway.com, which unsurprisingly is in the business of selling advertisements and leads to online marketers. As is the hallmark of all illegal, out-of-compliance operations, this site's contact page is completely blank (try it). This is not to say Rewards Gateway is directly responsible for the spam messages. Here's how this works:
Rewards Gateway operates its own shady advertising ring. But they only make money when people actually see the ads. So they get "affiliates" — third party spammers, err, publishers — to spread the word for a fee. Usually that fee is dependent on sign-ups for some kind of offer (e.g., we pay you for each person you get to not only click the ads, but sign up for the advertiser's product). Thus, the spammers, err, publishers, go out and find creative ways to get people to sign up for their affiliate network offers. In this case, someone's created a rather nifty AIM spam bot to do that. Of course, how they are harvesting screen names is still a bit of a mystery to me, but frankly I've spread my screen name out there so much it would be hard to miss it.
For anyone interested in adding me to more spam lists, my screen name is "ImCoolandTough". Have you received similar AIM message spam? Do you know anything more about these spammers? Comment below and share!