I promised that I'd get better about updating the site, and I intend to fulfill that promise. Within the last couple of weeks, I've received a substantial number of comments about my shirt that reads "EAT ME" in Greek letters (Sigma Delta Tau Mu Sigma). Some people here at RPI see the shirt with varied reactions. For example, I've had two folks ask me where I was a 'brother'. I assure everyone that I am in fact not a fraternity brother in any form. More amusingly, perhaps, was the fact that someone also proceeded to read the shirt as "the sum of the change in temperature divided by the mass's sum". "EAT ME" is in fact not a mathematical equation. To those that do not immediately get the joke, I invite them to stand back and behold the glory of the "EAT ME" t-shirts.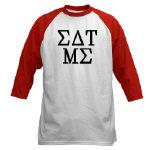 Click here to purchase the shirt that reads 'EAT ME' in Greek Letters!
Since I have received so many affirmative comments regarding these, I've decided to just offer them for sale. The prices are a little bit steep, but that's CafePress.com's fault, and not my own. While you're there, don't forget to pick up a wall clock with my face on it — sure to brighten up any room! And ladies, there is both a girls version of the shirt and an official INeedAttention.com thong available!
The mens' shirts are available in black/white, blue/white, and red/white (pictured). The girls' shirts are available in black/white, pink/white, and baby blue/white. Click here to purchase one of these lovely t-shirts that boldly declare: EAT ME! to the fraternities and sororities at your school.