Yeah so, it's finally over. The tests were hard, I still have lab reports to do, and I was [drinking by 1PM] thanks to the fact that I randomly bumped into Eugene (from the class) as I was about to drive home. I was talking to my mom, and I was kind of choked up, and upset that it was over. I happened to see him on the street, so I ended the phone call, did a K-turn, and offered him a ride. We ended up buying a 30-rack and I knocked about 7 beers back [with them, not alone] — and we drank 'em quick [and stopped]. It was a good time, but unfortunately I had to drive home [which is why we stopped, I ended up leaving around 4:30 and getting home around 5:20]. Which, of course, was fun as usual, because I am a total road rage inciting fool apparently.
Now, normally, I like to ignore aggressive drivers. But the one habit that as of late has really bothered me is illegal passing. During rush hour, everyone has to wait. No one is special. There is no "priority" during a traffic jam — people that drive big SUVs or sports cars do not have any advantage, and the rich and the poor wait alongside each other. So when some jerk tries to pass in an on-ramp lane or a shoulder, it bothers me to high holy hell. The worst spots for this on the Thruway are near the Palisades Mall, mainly because the entrance and exit ramps are so long and afford drivers with plenty of clear open road. Some dude in a Mercedes with a New Jersey plate came weaving up through traffic (changing lanes unsafely as it was), and went to go pass me in the Palisades Center on-ramp as I was in the right lane, waiting patiently for traffic to crawl along at a smooth 25 or 30 mph [which, although not very quick, is a fair pace for an afternoon rush]. I would have let him pass me, and would have given a hand gesture — but then I noticed he was on his cell phone. This is what really pushed me over the edge, because this guy was driving like a moron switching lanes like crazy, then trying to pass on the shoulder, and he has the audacity to talk on a cell phone too? I swung my car hard right as he approached, and he tried to go even farther right. I swung further out, and then he tried to pass left — no dice buddy! He got back in the lane, and for the next mile and a half, I drove with my middle finger extended vertically as he continued to wait behind me and talk on his phone.
What I did was utilize counter-aggression to make myself feel better about his own bad driving habits. What I did was not justified, nor was it safe. It was foolish. Then, as I was about to exit, another driver who had witnessed my vigilante-driving was passing me in the middle lane (to my left, in a lane, like a normal driver passes someone). The driver looked at me, waved, smiled, and gave me a hearty thumbs up — an approval of my actions and an affirmation that other drivers appreciate the fact that bad drivers get what's coming to them. To the fools that dare pass me on the shoulder ever again — watch it, because [many people] have no problem letting your dumb ass rear-end [them]. What do you think would happen if a cop showed up on the scene and [there were two cars] in the shoulder with your car behind me? The fact of the matter is, a rear-end collision in the shoulder is almost impossible — unless the guy in back was doing something wrong. Be careful fools, be careful[, because you can hurt somebody and ruin your life over saving three seconds on the highway].
In other news, finally, someone pulled off a senior prank that was both novel and non-destructive. In the past couple of days alot of senior pranks have been perpetrated against their respective schools, some of which have included students peeing all over their school. It's pretty dumb, really, to destroy a school when you're on camera like these kids definitely knew they were. What's more asinine about that story is that the school opted not to take legal action against them — talk about lucky. Oh yeah, I'm supposed to be talking about the non-destructive senior prank. Well, some kids got the idea to sell their school on eBay. Now that is freaking clever. Good job, kids, you're making me, as the former co-captain of the screw crew (and the glue crew), very proud to be an American. Unlike drivers on American highways, who make me grit my teeth and pray for better things.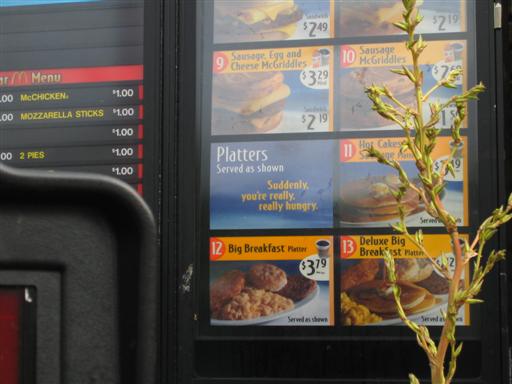 McDonalds now apparently tries to use hypnotic suggestion to sell breakfast. "Suddenly, you're really hungry, and when I count backwards from three and clap my hands, you will… eat this raw egg and make noises like a rooster!" I can see it now.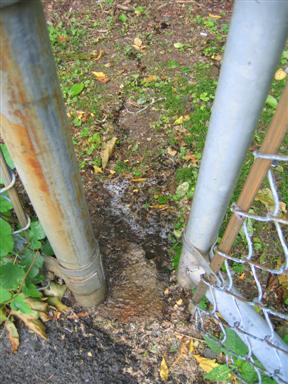 I love that commercial where the old woman is playing golf and the song in the background is like, "gotta go gotta go gotta go right now," because I can totally relate to that woman's problems. Sometimes, you're somewhere where a bathroom is not readily available. Of course, I don't need prescription drugs to solve that problem, because… I just go. Doesn't that make sense? Ok, you get the urge to go… just go. I drink a super-size diet soda (41 floz) every morning. Naturally, I find myself in the "gotta go right now" situation quite frequently. This [is] quite relieving.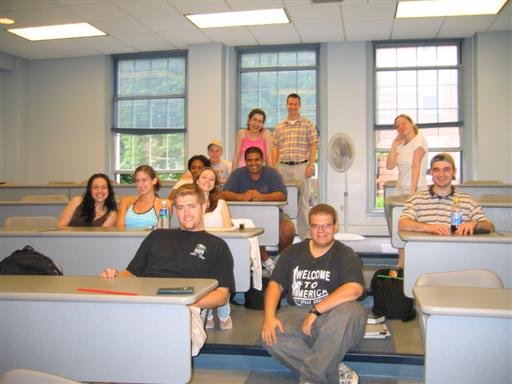 This was the photo that got me all choked up: the Organic Chemistry I Lab Class from Manhattan College, June 2004 session. I took the picture and the kids laughed that I suggested such a silly idea (when was the last time anyone took a class picture, elementary school?). Anyway, I looked at the photo later, and I was thinking about how much of a positive impact each of these kids left on me, and then I noticed that… everyone was smiling. Every last kid in that class had a smile on their face. I just looked at this picture and started wishing I could be with kids like this all the time. Thank you so much to the kids in my class. You have no idea how much your company meant to me. RPI, our time is limited.