No, I didn't get drunk. I drank the other night during the Monopoly game. It seems like everyone in the news today was drunk though. First, here's the story of some SAE brothers from out west that were sued because they let their drunken frat party spin out of control. I think that SAE brothers from RPI should take a hint and start throwing parties this cool. Next, we have the story of some drunk kids who were able to successfully elude the police during a high speed chase, reaching speeds over 100 miles per hour. Oh, but then they did eventually get caught when they stopped in a driveway. Dumbasses.
The other person in the news today, who just acts as smart as someone who's drunk. Chances are, he probably never gets drunk, because he's a devout Mormon. Today's dumbass trophy goes to Sen. Orrin Hatch, who's hatched another idea to clamp down copyright infringement law even further (pun intended). This is the same genious that spawned the idea of creating system to destroy the computers of file sharers. Great work, dude, great work. Sen. Hatch, you are truly a credit to the human race.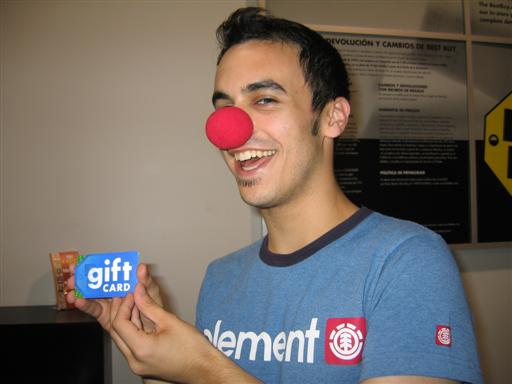 Here I am in Best Buy, holding my gift card, and wearing a bright red clown nose. There was a gay guy working behind the counter when I went to have a transaction re-rung. He said it was his first day there, and that so far it wasn't very fun for him. He actually was flirting with me right in front of Allison, but was so friendly and funny about it that she didn't mind at all. Admittedly, it was pretty funny. He was really charismatic and and witty. He was the one that gave me the clown nose. Employees like this enhance my personal opinion of Best Buy, because generally I do not like Best Buy very much at all. But this guy was a good hire. Notice that I'm smiling. Usually I don't smile at Best Buy. I'm smiling because I made money off the transaction! So the moral of the story is, if you're a Best Buy cashier, focus on the cash drawer, save your one-liners and urges to look at men's asses for the weekend, or maybe try stand-up.