After yesterday, I was surprised at how good I felt today. I got to sleep in by an extra half hour, which I realized, is neither a burden nor a boon. I'm still on the fence as to whether traffic is lighter when commuting for an 8:30 AM or 9 AM shift. Traffic seems to be worse on the Thruway for the latter shift, but seems to be worse on Route 9 for the earlier shift (likely because of traffic related to the schools which will dissipate by the end of June).
No matter what time you contend with the traffic, however, it's obvious that next to no one engages in neither efficient nor courteous driving practices. Despite that, it became more apparent to me that I'm the one that's more right for leaving adequate room and trying to find the average speed. Today I was passed by a Porsche weaving in and out of traffic. Eventually, they got trapped in the left lane by bumper to bumper traffic, whereas I rolled gently up beside them. I believe I braked all but five times today in total on the Thruway – and unlike last year, I don't just shift gears to avoid braking, though I do shift when it's appropriate to do so.
Like, for example, how my attitudes and behaviors shift when I arrive at work. As an aside, this morning I had the satisfaction of reporting to security that another employee had left their lights on in the parking lot – which I did yesterday, only to return to a dead battery. Anyway, though I'm beginning to find it enjoyable again to dress nicely and gain the sense of satisfaction that comes with working diligently, the moment I get out of work, I feel like I can take off the fake smile I strap on all day. Ass kissing was not part of my job description, but it's definitely an expectation of the position. Despite numerous attempts to make suggestions on how to make not only my own, but the jobs of others, easier and more efficient, I'm frequently told that the way things are, are just the way things are.
Despite my dissatisfaction with being forced to accept the status quo, two rather interesting things happened today. The first was that I completed coding my HTTPS proxy. My employer's firewall aggressively filters both ingoing and outbound traffic. Now, however, I'm able to surf the web anonymously. All of my traffic is loaded through another website. First, I authenticate myself to the website over HTTPS (secure HTTP, what is often used to secure e-commerce websites). Then, I'm prompted for the URL that I want to go to, and that URL is then transmitted via an encrypted 'POST' request (thus causing that data to become encrypted as well). The website I want to visit is returned to me via the same encrypted tunnel. Thus, my employer sees me visiting only a single website over and over, and has no choice but to accept that the traffic is encrypted. In fact, if they try to crack the encryption, they may be violating laws. Not that it matters, because 256 bit SSL is more than adequate to thwart even an experienced and well-financed hacker. Some readers may be asking why the entire web is not encrypted, then. The reason is simple: not everything needs to be encrypted. If I was visiting a website like CNN, I wouldn't even bother trying to conceal the contents of my transaction because no one would complain that I was doing something improper. But what if I loaded Slashdot, for example? The corporate firewall filters Slashdot because it is related to hacking. Forget the fact that it's the premier source of techno-scientific news – it's liked by hackers, so it's got to be bad. Regardless, as of today, I could surf the web pseudo-anonymously without worrying that my employer was spying on me. And that's a good feeling, because if they are so obsessed with my personal life that they feel like they need my urine to gauge my character, they must at least monitor my internet usage (and believe me, they do, because they spent quite a bit of time during orientation explaining internet usage policies).
The second piece of good news today was that it didn't matter that I wrote that proxy software. The reason was that the computer lab in which I work is getting Optimum Online installed. After all, how can we test software pretending that we're in the outside world when we're behind such a ridiculously overzealous firewall? So when this week is over I'll be able to just plug into the Optimum Online connection and do things that shouldn't be prohibited anyway. Like, for example, checking my personal email, as this is currently completely impossible because of the outbound firewall rules. Webmail is fine, so why not POP3? The argument that it stops worms from spreading is bunk – because an intelligent policy on software updates and server-side managed virus protection mitigate that possibility. So naturally, I'm quite excited that I'll literally be one of five employees at my company (which employs thousands) that has unrestricted Internet access, with of course the exception of the IT people that could easily just exempt themselves from the firewall rules anyway.
So, at this point in today's entry, I must take a step back and return to the original point of this article. I woke up this morning and just decided that I needed to do my own thing and do it as well as I possibly could. I drove the best I could to work. I did the right thing and went out of my way to let someone know their car battery was going to die. I worked hard, and ate well during lunch. Then I came home and ran as hard as I could despite the fact that it rained earlier. With hard work and a good attitude, I can't fail.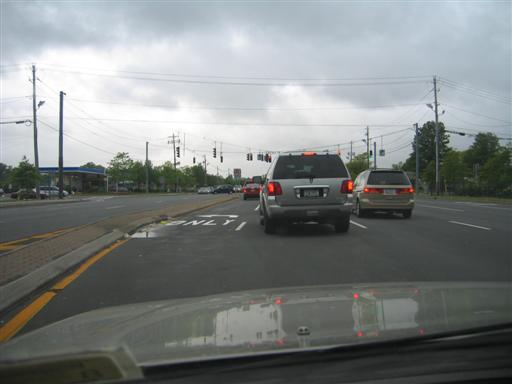 Proof that at least four out of five drivers are completely inconsiderate, I wait trapped behind cars that won't move up to let me into the open lane ahead of me, since no one queues properly using the two lanes that are provided. If you live in Rockland County, you know that this is at the interchange of Route 59 and Route 304 in Nanuet, NY. If you make a left turn at this intersection, the left lane tapers off, and leads to Route 304 southbound. The right lane connects to three parking lots: the first to a Mobil gas station, the second towards the McDonalds & Pathmark shopping center, and the third to Mavis Discount Tire, at which point the lane continues straight and becomes Church Street. Literally every drive believes that they must queue up ready to be in the right lane in order to continue to Church Street. Even people close to me often say, "If you're in that lane, nobody lets you in!" Seriously, how likely is it that everyone of the cars in front of me here would cut me off if I went into the left lane and calmly made the turn along side them – without making it seem that I was trying to cut them off. No one has to let you in – because at least one of the ten cars in the rightmost turn lane in this picture is headed towards one of those three shopping areas. It happens every time. At the very worst, you end up having to slowly cruise as those cars pass you headed towards Church Street, and you end up at the back. But I say so what – would you rather wait again for the light to cycle? That light takes over 90 seconds to completely cycle. For some reason, I'd rather make the turn and wait for the other drivers to go. If you're ever there, try the left lane, it's actually pretty convenient. Just don't race the drivers in the right lane, or you certainly won't be let in. I'd say 19 out of 20 times traffic permits a quick switch and lets you flow through though. Like I said, just give it a shot. If you don't like it, you can always just hold everyone else up like this idiots pictured here.