Remember, it's INeedAttention.com — spell it correctly, or Optimum Online will assume you wanted targeted ads and useless search results, not this hilarious blog. That's right, Optimum Online now offers DNS hijacking at no extra charge!
Lots of other people are pissed – and rightly so. Network Solutions (Verisign) tried to do this a few years back, but had to scrap those plans because everyone was up in arms about it. So what makes Optimum Online think they can get away with it? Greed, ignorance, and apathy – if customers don't make a fuss, and they make more money, they're happy. Don't let them get away with this. Call Optimum Online and complain – ramble on even – and offer them no way to satisfy you besides stopping this service. "But you can opt-out!" they will cheerily point out – no one opted in to begin with (we still recommend you opt-out anyway to make it official).
Let's explore the features of the new "DNS Assistance Service" that they're "offering" us.
If you misspell or mistype a web address, dead-end "no such name" errors can occur. However, the DNS servers used by Optimum Online are designed to eliminate dead-end "no such name" error pages you can encounter as you surf the web. By displaying the preceding search results page, users know that the web site they've attempted to navigate to does not exist, and are presented with suggested sites they may have been seeking.
Users "know" that the site they're visiting doesn't exist? Actually, they might have known, but instead, Optimum Online has hijacked the non-existent address and "suggests sites" you might be interested in through targeted ads. Let's see how effective the DNS service is.
So, you want to check out INeedAttention.com, but you're real drunk, and you type in "INedAttention.com":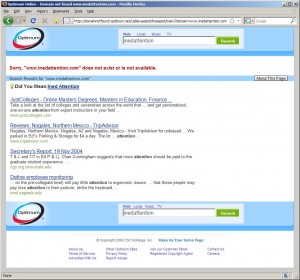 Hmm… those sites didn't seem very relevant. In fact, they seemed completely irrelevant. "Did you mean: INed Attention?" Yes I did! That's exactly what I'd typed. What kind of suggestion is that? Maybe I should have typed "INeedAtention.com":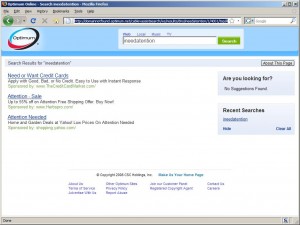 That wasn't very helpful either! They even didn't suggest a single thing that time. But thanks for the targeted ads, Cablevision! Ok, maybe I'm being unfair. Let's pretend INeedAttention.com wasn't resolving by DNS for some reason. What would happen then?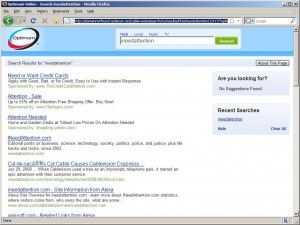 Geez, it only took typing in the name of the site I was looking for to find the site I was looking for buried under three totally unrelated ads. This is some neat service! For bonus points, the #2 search result is the horror story about Cablevision failing hard at disaster recovery.
Screw Optimum Online, I'm switching to Verizon iOS. Not that I think iOS is so great, heck, I've never tried it, so I can't recommend it. But still, I should check out VerizioniOS.com…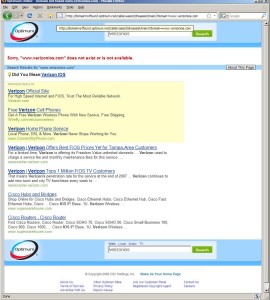 Whoa! The first result was actually for Verizon FiOS! That actually was what I was looking for. But it's awful nice of Cablevision to make Verizon pay for the ad-clicks… And the "search results" once again have literally nothing to do with Verizon FiOS.
Seriously guys: call and complain if this bothers you at all.  They should and must know better than this. Just call: (877) 393-4448 and let them know how you feel!