One sunny spring afternoon, a congregation of Verizon technicians descended upon the cul-de-sac deep in the heart of suburbia that I call my neighborhood.  These technicians were not here to read the telephone meter, mind you, they were outside digging holes and pushing cables into places I never knew cables could go, in order to deliver their new Fios fiber-optic home installation.  Shortly after they finished installing the underground cables, we noticed intermittent electric power outages.  Apparently Con Ed also noticed, because one of their technicians discovered that there was damage to the underground utility lines in the neighborhood, so the electric power lines were replaced.  Cablevision, "home of Optimum Products and Services, for your home and your business," also joined in on the frenzy by replacing their underground coaxial cable line.
It just so happens that my front lawn is used as a right-of-way where a fiber-optic head end converts the Cablevision fiber optic network to the coaxial cable feed that we know and love. And despite that the cul-de-sac has fewer than 8 homes, there is a second underground utility pedestal across the street on my neighbor's yard that splits that coaxial signal.  For some reason, when Cablevision returned like the other utilities had, they didn't replace their underground line immediately.
Instead, they took some coaxial cable, terminated it in the box on my lawn, then ran it out of the pedestal…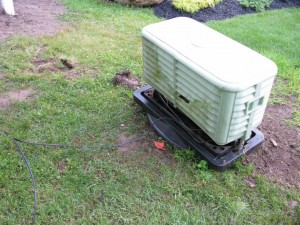 Up a tree in my front yard, where it was tied on near the top with some wire…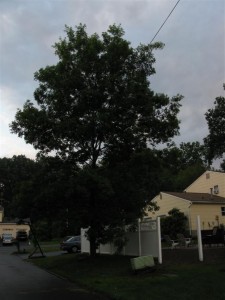 Strung across the street, where it was tied to the head of a light post…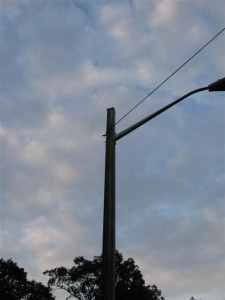 Before re-entering the ground where the other pedestal is.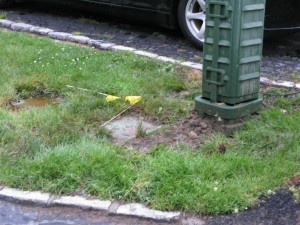 I noticed the grass starting to grow back where they had dug weeks earlier, and I started to wonder if Cablevision ever planned on doing anything about it or if they would just leave it this way forever.  You can see clearly there is exposed wiring, and even though this is coaxial cable which usually only carries signal-level voltages, I was still pretty concerned about this, especially considering that Con Ed was replacing cabling because of some electrical fault worthy of replacing their underground plant.  I mean, there was absolutely no lighting protection, and in addition there were exposed conductors from the previous underground installation hanging out right in the open.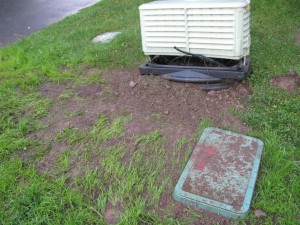 But also, no one from Cablevision ever asked to use my tree as an ad hoc telephone pole, and in fact, when they were installing the wire in the tree, one of the technicians gave my brother a hard time about moving his vehicle in order to access our own driveway.
So I called Cablevision, and guess what happened — nothing, so I called again, and still nothing happened. I did this once every week or two for just over a month.  No one could tell me what the delay was, or how long it would be before they re-installed it properly.  I started to get frustrated, so the next time I called, I selected the options to make a new service call, and told them I was going to cut down the tree in my front yard, with their wire attached to it. The phone rep had no clue what I was talking about, even as I explained that I was about to cause an outage.  I asked if I could speak with someone on the technical side to at least explain what was going on, because obviously, there was something going on. But the phone rep insisted they had no idea what work was being performed or not in my area, and that no one could tell me what was going on.
I started getting outright upset that it was so complicated to communicate with Cablevision, because I was completely in the dark for these weeks, while they disregarded my repeated escalating requests for action or at least information. It could have been completely up to standards, which I doubted it was, but if someone had just explained if it was, I would have been satisfied. Instead, their labyrinth voice response system and marathon wait-times wore me down with multiple phone calls lasting over 10 to 15 minutes each.
Clearly, I needed a new strategy.  Instead of calling the service number that Cablevision said I should call, I called the number in their uber-catchy urban salsa themed commercial.
The wait time to speak with a representative was noticeably shorter, and also the voice prompt indicated that if I didn't have a home phone number, I could just press 0.  Unfortunately, even though I got through to someone, they said they'd have to transfer me for repairs, and that put me right back in queue.
But still determined to get through to someone, I tried this time calling the toll-free number I saw in advertisements for Optimum Triple Play for Business, which had a different number then the home service.  Yet again, I was routed to the appropriate department with incredible bureaucratic predictability.  I still needed to be even more creative.
I called back the Optimum Business service phone number the next day. I navigated through the prompts to request a repair. When I was connected, and the rep asked to verify my account info, I interrupted and told her I must have dialed the wrong number, that I was a vendor looking for information on how to bill them for something. For the first time ever, an Optimum phone representative offered a name and number to call for someone I could speak with.
I called the number the next day.  Sure enough, this was a real land line phone that went directly to someone at the Cablevision Corporation, not a voice response system. I pulled yet another switch on this unsuspecting person in the Cablevision corporate billing department. This time I told the person I was a contractor, and that one of my workers encountered a live wire and needed someone else to check it out. Finally, I was getting somewhere, because the lady on the other end gave me yet another number to call.
When I called that number, I dropped the contractor angle and just explained the situation. He seemed to genuinely understand the problem, making him the first person out of nearly ten at Cablevision.  Sure enough, that very evening, Cablevision technicians arrived and restored order.  The pedestal box still sits a bit askew, but clearly it's too much to expect decent service, let alone perfection, from Cablevision.
The guy I'd spoken with last called me up the next day and apologized for the trouble.  He offered to let me call him directly with any issue like that in the future.  He did a great job, but seriously, it took way too much lying and social engineering to resolve something relatively straightforward, albeit odd.
I'm not trying to plug FiOS with this post, because I've never even tried it, and frankly I have my doubts that anything Verizon does could be cool.  But while we're on the subject of Optimum, they throttle BitTorrent traffic quite significantly.  Optimum phone representatives, naturally, have no idea what BitTorrent is, in fact sometimes the representatives seem to genuinely not know what a bandwidth cap is either.  But Optimum Online will inject RST packets into your connections (just like Comcast) if it detects you seeding a BitTorrent without downloading anything as well. Opportunistic encryption built into programs like uTorrent are probably the best solution to this for now, besides bringing attention to the fact that Optimum's lightning fast speed does come at a cost.  But at the end of the day, 30 Mbps downstream and 5Mbps upstream (with "Optimum Boost") is pretty fast for the United States, and it does do the job.  I have a feeling, but cannot substantiate in any way, that they also throttle traffic to common speed test sites to make it appear that your connection is faster than it really is in normal conditions.
Also, the picture quality for non-HD channels on iO cable is horrendous.  You're almost better off plugging the analog coaxial signal directly into your cable-ready TV than using their digital cable.  Watching a show like "South Park" on Comedy Central is painful because the amount of MPEG compression artifacts degrades what should be smooth colors and lines into blocks and splotches of incongruous colors.  The HD channels, although still limited, will continue to grow over time, and will hopefully continue to be amazing.
Perhaps it's all part of a larger Cablevision conspiracy to make me think my service is good! Time to don my tin foil hat and protect myself from the mind-control radio wives emanating from that (no-longer) exposed underground wire!