Insurance of any form is rarely a compelling value proposition for consumers. Take, for example, life insurance. Life insurance is the one product that people buy that they hope to never have to use. From the insurer's perspective, it's a safe bet: you don't want to die, and you'll do whatever you need to in order to avoid it. On the other hand, life insurance can present a compelling value since, as they say, it provides peace of mind. That peace of mind comes from the assurance that when you die, your loved ones will be well supported in your absence. Insurers help manage risks in our lives. Homeowners risk losing their homes in natural disasters, floods, and fires. Automobile drivers risk being crashed into and also crashing into something or someone and thus being exposed to considerable amounts of liability.
But insurers can help you manage other less significant risks, as well. My adventure in obscure insurance services started when I found out that I was eligible for a discount on any Verizon Wireless service thanks to arrangements between Verizon and my employer. When I went to apply the discount to my account, I found out that I couldn't apply the discount because the account wasn't in my name. Our entire family was on one plan, and my mother's name was on the account. So we switched the account to my name. At that time, Verizon had me change my plan around. This proved to be in our favor, and we ended up with a comparable plan for much less per month. One key change to save money was to switch my data plan from unlimited to per-megabyte, since I figured I would rarely spend as much as the cost of the unlimited plan in a single month. A few days later the changes went through, and my discount was applied, lowering the bill even further.
Things were great. I received the first bill, and then noted that on two of the five handsets, a charge appeared: "TEC INSURANCE", $5.99 per month. TEC, or Total Equipment Coverage, replaces your phone if it is lost, stolen, or broken, for a modest $50 deductible in addition to that $5.99 per-handset monthly premium. My phone wasn't completely broken, but the online phone claim website allowed me to file a claim for the intermittent failures I was experiencing.
The claim explained that the phone, an LG VX4500, had been through a lot. I lost the antenna, and replaced it with an aluminum twist tie. The outer screen cracked when I was rollerblading in the city one afternoon. Repeated falls onto hard surfaces rendered the volume adjustment buttons inoperative, and also caused the LCD backlight to experience a mysterious 2-to-3 second delay when powering up. Speaking of powering up, the phone would spontaneously power down when the battery was nudged the wrong way since the battery's plastic tabs were broken. One of the weirder problems was that the LCD display would occasionally go blank. The solution: remove & replace the battery, call *228 (phone activation) and re-program the phone, then the display would come back on when the phone restarts. I've had this phone for four years, and I'm comfortable and generally satisfied with it for some reason. It just works –it makes phone calls, sends text messages, and even gets my laptop online via 3G. What more could I want?
My claim didn't fit into the pre-selected claim categories, so I had to explain the damage just as I listed above. It was approved within a few minutes of submitting it. There was just one problem: the LG VX4500 was discontinued, so they couldn't replace it. When I called and spoke with a claims representative, they offered me the LG VX4650 instead. I didn't know the model off hand, so I did a quick Amazon.com search while I was on the phone, which revealed that this phone too was discontinued. I asked how it made sense that I was offered one discontinued phone in place of another discontinued phone. The agent put me on hold, came back, and offered me an LG VX5400. Again unfamiliar with that model number, I searched online and found a slightly used handset for $24 (plus shipping). I asked the agent what was costing so much for the premiums in addition to the $50 deductible if the handset wasn't worth close to that. The agent couldn't really explain. I asked if any other handsets were available, but they said those were all my options. I politely declined to complete my claim until I could investigate the matter further.
The first thing I did was look up all three phones — my original LG VX4500 handset, and the VX4650 and VX5400 as well. At that moment, there was at least one of each phone listed on eBay. The market prices for the phones I was offered, accessories included, on eBay were:
LG VX4500 – Original handset – $8 (+s/h)
LG VX4650 – Offered replacement handset – $16 (+s/h)
LG VX5400 – 2nd offered replacement handset – $24 (+s/h)
The real kick in the nuts was that on top of the pre-paid $5.99 per-month premiums, the insurance company's $50 premium didn't cover the separate shipping and handling fee for the replacement handset.
Maybe this service could be a good value for people that have these $400 smart phones and expect to break a handset or two per year. Insurance for smart phones is more expensive, but at the time my VX4500 was originally purchased, the MSRP was just under $200. The manufacturer's warranty on the handset lasts one year already anyway. After one year, the selection of phones will have advanced significantly anyway. If you needed to replace the phone exactly 1 year and 1 day after you bought it, you would be faced with one of two options. Without insurance, you would be liable to pay for a new phone out-of-pocket — another $200 spent, but you'll have the newest latest model again. With insurance, you'd have already spent $71.88 in premiums. The additional $50 deductible, for a total of $121.88, to replace your original phone may be a good value. But after two years, the nearly $200 in combined premiums and deductible to replace the phone would likely not be a good value, since the phone will have depreciated significantly as new handsets replace it on the market. After three years, the $270 combined spent on the insurance and claim would easily have paid for a new handset with superior features.
But it gets even better — usually Verizon Wireless can work something out with you to give you another free phone after 2 years when you go to renew your contract. So why file a claim at all after two years? You could get a brand new phone free! Oddly, the agent I spoke with at the insurer sympathized with me when I pointed this out. I should get a new phone from Verizon if that was a better deal. But that seemed absurd — we'd apparently paid for insurance premiums for nearly 4 years on 2 handsets for a total of over $400 in premiums. The solution they offered for that price paid was a discontinued handset that was worth less than the deductible, and when I pointed out this was a bad deal, they suggested I get a new phone with a new Verizon contract.
Knowing that I could get the exact same handset I had for under $10, I chose not to proceed with the insurance claim. I canceled the insurance service the next day. My girlfriend had the exact same phone before she upgraded to a BlackBerry. She gave the phone to me, and Verizon Wireless was able to set up the phone over-the-air when I dialed 611, and even waived the usual $19.95 fee because of my discount plan. The phone was replaced by my girlfriend's goodwill for a total cost of $0. It's like my phone is brand new.
Unfortunately, the insurance company got away with murder thanks to the poor choice in selecting the insurance when my mother set up the plan. There is a sort of happy ending to this story though. I went to their website, and found a list of the names of their management team. I sent a strongly worded email to the company's senior officers using the format "first.lastname@company.com". Sure enough, all of the emails went through except one that bounced back. In my email, I promised that I'd find at least one other customer of theirs and convince them to cancel.
I got a call back that day from their corporate offices and spoke with the director of their entire customer service operation. She seemed a bit mystified that I didn't want to accept the replacement handsets, despite my explanation that it simply was a bad value because the deductible was so high. The customer service director ended up settling with me for cash! I received $100 in traveler's checks via overnight FedEx, as a gesture of goodwill. In return, as a gesture of goodwill, I've masked the name of their company, although I still didn't make it very hard to figure out what the company's name is.
At the end of the day, it's just generally a bad value to buy these handset insurance plans. Make sure you really understand what you're buying when you get insurance and extended warranties. A good rule of thumb with insurance is to insure only things that you can't afford to replace. Things like your life, your house, and your car fall into this category for most people. Things like your TV, your power tools, your computer, and your cellular handset just usually aren't worth that much to begin with. Skip the insurance on these small items and spend them on something more worthwhile.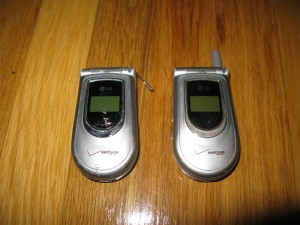 The old phone, on the left, seen with its cracked external screen and aluminum twist-tie antenna.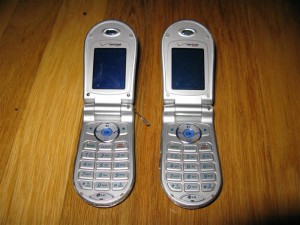 The keypads may look similar, but the phone on the left can been seen missing superficial covers over the screw holes. Also the buttons on the side didn't work on the old phone.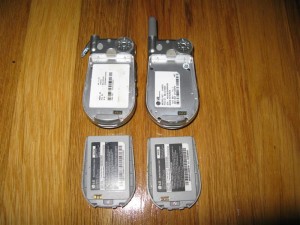 With the backs removed, it's obvious these phones are actually not identical. I noticed a few differences between the phones after careful examination. The first was that the "new" phone lacks the Scheduler tool, however the new phone has the "voice scheduler" and "driving mode" options in the "voice" menu. Also in the "sounds" settings menu, the new phone has "speaker phone" while the old phone has "speaker" options. Finally, the old phone has an option "ERI alerts" under the "alerts" sounds settings menu. The "phone info" menu also indicated two other differences: the old phone's software version was "T45VZV04" vs the new phone's seemingly older version "T45VZV02", and the new phone had an ERI version of "ERI4" vs the new phone's version of "ERI 50018".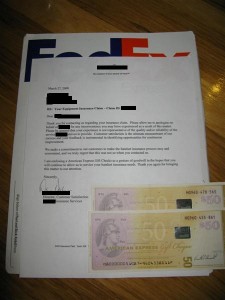 They were nice enough to send me back $100 of the $420 in wasted insurance premiums that we'd paid. Then again, I did tell them I was going to make a point to get at least one other person to drop their service. Since they were nice enough to give me that gesture, I've shielded their name. Still, they made a solid couple hundred bucks off it over the years. Also it's hard for me to feel too bad for them when were ready to charge me a $50 deductible, plus shipping, to send me a phone that I could get on eBay for half that price plus shipping. It would be like having a $10000 deductible on car insurance even though you paid $500 a month. Hardly a worthwhile investment.