Tonight, Ally and I infiltrated the NVOT parking lot, the holding facility where hundreds of students cars were left overnight while they enjoyed a cruise around Manhattan for Project: Graduation. Our mission? To decorate her younger brother's car in such a way as to generate both laughs and significant amounts of embarrasment. Here is the debriefing:
16:00 — Ally leaves work; goes to store and buys "car marker"
17:00 — I leave work; rock out to music in car during commute home
17:40 — I arrive home; draw pictures using unlined papers/crayons.
19:00 — Ally comes to my house; we go to Palisades Center mall for dinner.
19:30 — Annoy Best Buy employees by making them re-ring transaction for Father's Day gift a third time; employees become intensely pissed, but inadvertently give me an undeserved rebate reciept for a $10 gift card (+10 bonus points)
20:00 — Eat dinner
20:30 — Leave Palisades Center; head to NVOT
20:50 — Arrive at NVOT, locate DK's car.
21:15 — Decoration is complete. Photos posted below.
Today was also an interesting news day, too though. The first civilian space shuttle was launched today, and successfully exited the atmosphere. Note that the article says that the pricetag for this mission was something in the ballpark of $40M. Note, also, that NASA spends roughly $40 billion on failures like Challenger. [SARCASM] I consider this proof that republican economic policies work [/SARCASM].
But here is proof that the republicans actually have a chance at winning the 2004 election. Ralph "I-Ruin-Elections" Nader has named his running mate, not like anyone knows who he is. I'm sorry, but normally, I wouldn't mind voting for a third party. I'm a registered libertarian (because of rather radical stance on the legalization of illicit drugs), and so I am not new to the thought of 'wasting' my vote. But you know what? This year, there is only one person that I am voting for: "Not Bush". That's his name. If he's "Not Bush", I will vote for him. That means voting for Kerry. I liked Dennis Kucinich, personally, but I think that we all knew that without the funding of the Heinz Ketchup fortune that Kerry's wife enjoys, or the governmental recognition that Howard Dean screams loudly about, that he stood no real chance. That's too bad. Remember folks, don't put Bush back in office unless you really hate the Bill of Rights, and you really like supporting large, evil corporations bent on world domination and the advancement of the neo-conservative agendas.
Or just forget it all, and become a toll collector. The Smoking Gun has two sections about those lovable change-jockeys that they have available for public viewing. They're filled with complaints from incensed travellers. They are also absolutely hilarious. Check out the New York State Thruway complaints, and the Mass Pike complaints.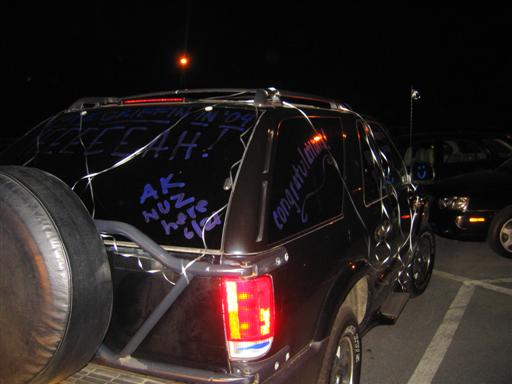 This is DK's car after we went absolutely nuts writing all over it and tying ribbon all over it. We also colored in the headlights and reverse lights with the car marker, so they will now appear blue when the car is running. We also wrote "Congratulations Jordan!" on a random car.