In case you had been wondering why the so-called liberal news media had not been asking the Bush administration for concrete answers, there is finally a woman ballsy enough to do the job. As it turns out, the fightin' Irish whipped out their beer muscles and slammed George W Bush with a hard hitting interview. The interview went so badly for Curious George that his handlers said that they were "furious" at the woman, who had been the first Irish reporter to interview an American president for the last 20 years. If you don't feel like reading the article, read the transcript, and watch George W Bush make an ass out of himself. Best part: "Can I finish? Can I finish?" a la the South Park movie.
Here is today's coolest news story though: SUVs are now banned on the Washington Crossing Bridge near Philadelphia. It should be quite interesting to see how effective this is, or for that matter how they're going to post a sign about such a regulation. I wonder, though, what about fire trucks, or ambulances, or even pickup trucks that weigh over 3 tons? The choice of the few vehicles listed in the article is quite strange considering that there are so many other vehicles with high curb weights as well. Now if you'll excuse me, I have to get back to work so that I can afford to fill the gas tank in my Hummer H2.
Actually, I probably shouldn't be joking about gas problems, because my car happens to be having a problem right now. It idles at about 400-500 RPM and subsequently has been stalling in the last couple of days. My father thinks it might be the fuel filter, so we're going to try replacing that later tonight and seeing what happens.
UPDATE: As if anyone didn't know that all high school principals were sexual predators, celebrity Jeffrey Jones, better know as the Principal from Ferris Bueller's Day Off, was arrested for failure to register as a sex offender. What I fail to understand about Megan's Law and similar legislation is that… if someone is dangerous enough to the community that they could go and break the law again, then why are they allowed back on the streets in the first place? We are jailing people guilty of drug possession (mostly blacks are the ones going to jail for this, by the way, which is interesting since statistically more white people do hard drugs). If someone should stay in jail for possessing drugs, then certainly sex offenders should stay in jail until they are no longer a threat to society. It's time to think about prioritization of our prison populations. Who really belongs behind bars? Who is being held because of the color of their skin, or, in the case of the Gitmo detainees, their religious beliefs?
In other news, anyone that saw Fahrenheit 9/11 should recall the scene in which representatives from Florida, one after another, ask for an investigation into the 2000 elections. What's funny about this is that this time, it looks like they're taking preemptive steps to prevent a repeat. They're calling for the UN to oversee the 2004 presidential elections. I highly doubt that the UN will get involved, and if they do, you can rest assured that they'll do virtually nothing to stop any potential election fraud – mostly because the United States has pretty much already called the UN their bitch and demonstrated their powerlessness. Remember that whole "war in Iraq" thing that they didn't give us permission for? Hopefully no other global superpowers will decide that the United States is in violation of UN sanctions.
That's all well and good – we all know that the war in Iraq really was justified (sarcasm). The disgusting truth about the American involvement in the UN is that the United States owes over $1 billion in indebted dues, while the rest of the world combined owes a little under $1.5 billion. This is disgusting, considering that we're dropping $87 billion on a whim on reconstruction contracts in Iraq which, coincidentally, are mostly going to Halliburton. Meanwhile, Halliburton is charging $125 per case of Coca-Cola, and $1,758 per case of Snickers bars. If you do the math on this, that works out to a little over $10 per can of Coca-Cola, and a little over $73 per Snickers bar. Thank you, American taxpayers! Oh, does anyone remember that story about Iraqis paying $.05 per gallon of gas? They pay $.05 per gallon of gas and we pay $73 per Snickers bar? BULLSHIAT!. Ok, I'm done with today's rant.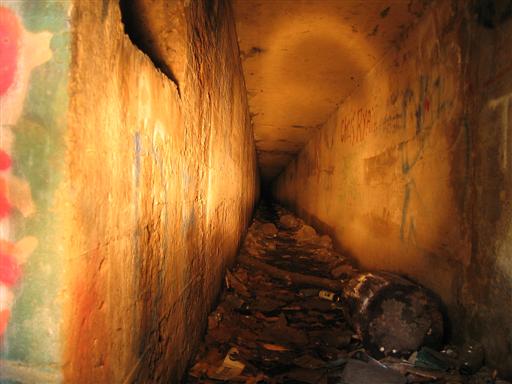 This photo was taken at nighttime at Camp Bluefields, in Blauvelt, NY. Yes, the inside of the tunnel was pitch black and I light-painted the inside with my mag-lite during a 15 second exposure.